Obi nickel sulfate project starts again
Time:2020年 12月 04日 Hits:4787次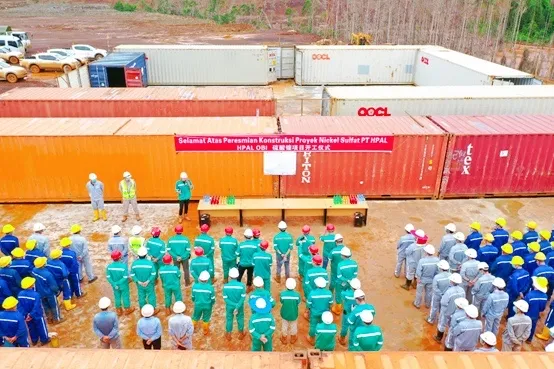 In December, the land of China has already been a world of ice and snow, but on Obi island in the South Pacific, the heat wave is still rolling, and the rain and wind are fierce. On the morning of December 1, 2020, after more than eight months of waiting, the nickel sulfate project of OBI nickel cobalt project started again, writing a new chapter.
In March 2020, the nickel sulfate project of Lygend Obi island was officially started. However, due to the impact of the new epidemic, the project was temporarily suspended. However, the hard-working people did not shrink back or wait, but gathered their wisdom to meet the difficulties.
Actively purchase epidemic prevention materials from China and formulate strict prevention and control measures to ensure that Chinese and Indonesian employees in the island are not infected. At the same time, actively contact airlines in China, organize charter flights, and strive to organize the employees of each company on the island to the greatest extent. In the face of the rampant epidemic, Lygend company braved hardships and went up because of difficulties, showing the responsible courage and courage of large companies.
After several months of rotation of Chartered aircraft personnel, Sinochem sixth construction company has the personnel and equipment to officially start construction. Finally, in the last month of 2020, the nickel sulfate project starts again and starts to write a new chapter. At the commencement ceremony, the owners, construction, supervision and design units including hpal, Sinochem Sixth Construction Co., Ltd., CCID and ENFI company attended the ceremony. Representatives of all parties made speeches, saying that under the premise of safe construction, the project can be put into production as soon as possible with quality and quantity guaranteed.
BaoJianFeng has been sharpened, and the fragrance of plum blossom comes from bitter cold. How can you see a rainbow without experiencing rain and rain. After the ordeal of this year's epidemic, we hope that the nickel sulfate project will create another monument.